At Murray Healthcare Services, we are aware that a person's need for care does not end when the sun goes down; rather, in some instances, individuals will continue to require care and support throughout the night for a variety of reasons. This is something that we take into account when providing our services. As a result, we offer a night care service, which aims to give you or your loved one the confidence and peace of mind they need to get through the night.
We provide a service that is adaptable, offering you the choice to adjust the degree of support provided to better meet your requirements. We are aware that  your requirements are always subject to modification, and we acknowledge the significance of granting you the ability to exercise choice and control over the care and support you receive. This gives you the peace of mind that the service can be changed to fit you or your loved one's specific needs.
The procedure typically starts with an assessment being performed to determine the required level of care and support. After that, we discuss the outcomes you would want to see achieved, and then we discuss how you would like your care and support to appear.
After all of this has been established, we will then be able to provide one-to-one night care. This will relieve any stress and worry that may have been caused by the absence of any support during the night.
Our Night Care Services Can Be Broken Down Into Two Categories:

"Sleeping Night Care"

and

"Walking Night Care".
A carer who provides waking night care must stay awake the entirety of the night in order to meet any of your potential care requirements during that time. Because of this, the carer needs to remain awake throughout the entire night in order to provide care to you at regular intervals and check on how you are doing.
This level of night care is best suited if you require greater levels of support, such as those who have recently undergone surgery or those who require ongoing support and reassurance due to conditions such as dementia. Clients with dementia who are prone to wandering off are an ideal candidate for waking night care. This care reduces your risk of falling, which in turn reduces the likelihood of accidents and injuries occurring.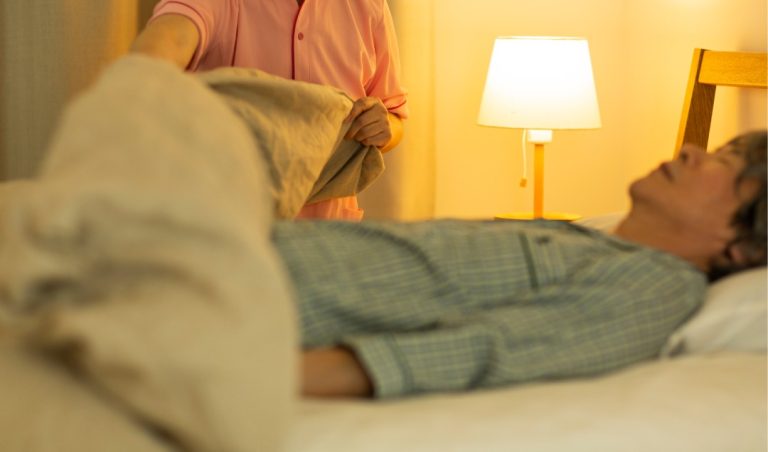 Individuals who may have a progressive condition such as dementia or Alzheimer's and who become anxious and are looking for a carer to sleep over to provide them with reassurance in the event that they need any assistance, such as assistance going to the bathroom, support changing continence pads, or to be available if the client is wondering, unsure of where they are, etc., find this type of support to be very helpful. This type of support is popular among people who have these types of conditions.
When compared to waking night care, sleeping night care is the more cost-effective option. However, there are certain constraints placed on the support provided by this option. For instance, a carer would be able to offer support up to three times during the course of a sleeping night. After that, the support would be classified as being from a waking night.
In need of

Night Care?

Please do get in touch. Our care team will respond at short notice and do everything to care and support you through your situation.