At Murray Healthcare, we have a vast array of services on offer personalised to meet your every demand. Championing a client-centred approach means we prioritise your need for care and support. Be it you choose companionship care or private live-in care; we allow you to take control of your care plan. To ensure a smooth sailing care plan, we ensure that our diverse team of professional carers is expertly matched to you according to your personality and needs.
We also make it our priority to carry out routine checks on you and/or your loved ones, to ensure that the care you are receiving is relevant, efficient and continues to promote a better quality of life. As Murray Healthcare services, we pledge to provide care and support that respects and maintains the dignity of you or your loved ones.
Who can find help at Murray Healthcare?
We have compiled a list to help you know who can access and benefit from our care and support services. Please do go through it and if you still have any uncertainties, please do not hesitate to contact us or fill in the form below to claim your 20 minutes FREE consultation with our Registered Manager.
If you have any condition that fall within the categories below, we have a qualified team of carers who can assist you to make your life much easier:
Ageing.
Children with special needs
Mental health problems.
Physical impairments and disabilities.
Learning disabilities.
Cognitive disabilities.
Terminal or complex health conditions.
If you have a condition that limits you to perform basic to major tasks, we are fully equipped to help you with issues of mobility, continence and personal care. Some of the challenges we can assist with include:
Difficulties in feeding yourself.
Struggle to maintain personal hygiene and managing your toilet needs.
Have difficulties moving around your home safely and keeping your home clean.
Struggling to develop and maintain family or other personal relationships.
Failure to access and engage in work, training, education or volunteering.
Unable to protect oneself from abuse and/or neglect.
At risk of isolation
Ultimately, our care services are the best option for you and/or your loved ones if you do not wish to be moved into residential homes. We will provide for all your needs as you continue to enjoy the comfort and familiarity of your home. At Murray Healthcare, we will conduct a thorough NO OBLIGATION ASSESMENT of your care and support to ensure that we deliver a comprehensive and effective care plan.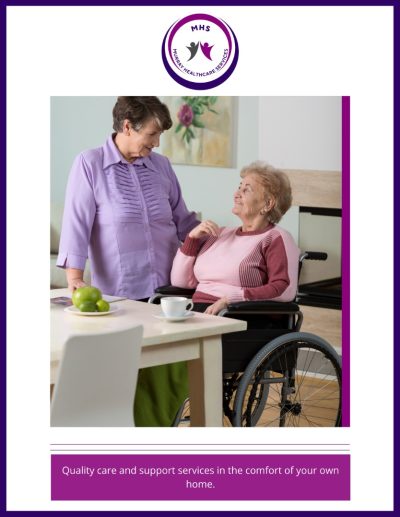 Murray Healthcare Services is happy to come out and examine your care and support needs in order to provide you with an accurate quote. This will be 100% free with no conditions attached.
Feel free to go over the services we offer at Murray Healthcare
What is included in your Care Plan?
At Murray Healthcare, we strive to provide you with competent care and support services and hence we will offer you holistic and person-centred services. These benefits are encompassed in our services that include, but are not limited to the following:
HERE ARE THE STEPS WE TAKE TO CREATE YOUR PERSONALISED CARE PLAN.
Make contact with us.
To learn more about how we can care for and support you, please click on the button below to start the care process.
Assessment
We'll come to you to find out what you or your loved one's care needs are and what they require to remain at home as long as possible. This is a free, no-obligation assessment and you will be given a quotation for your care needs.
Care team is selected, and care begins
We will do our best to pair you with a compatible carer. For as long as you want, you'll be cared for by our team of carefully trained carers.
Continuous evaluation and monitoring
To ensure that you and your loved one are receiving the best possible care, our care management team will do regular evaluations with you or your loved one.